Image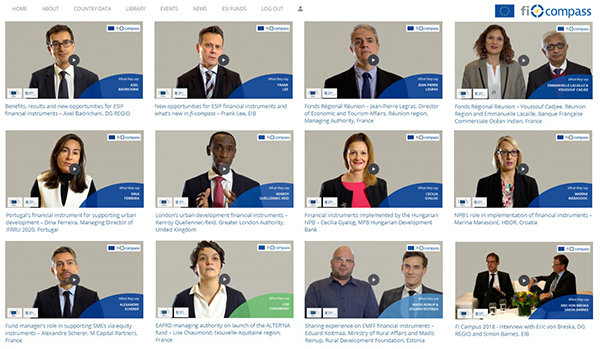 Video testimony from speakers at the FI Campus 2018 event is now available on the fi-compass website. The interviews, which are featured in the 'What they say' section of the fi-compass video library, provide insight into a number of financial instruments that were featured at the event.
Support to SMEs through ERDF co-financed financial instruments is featured in the videos of Jean-Pierre Legras, Youssouf Cadjee and Emmanuelle Lacaille, from the Reunion region, France and Alexandre Scherer, fund manager in the Occitanie region, France.
Urban development financial instruments are discussed by Kenroy Quellennec-Reid of the Greater London Authority, UK and Dina Ferreira, fund of funds manager at IFRRU 2020 in Portugal. The role of national promotional banks and institutions (NPBIs) in the deployment of ESIF financial instruments is the subject of the interviews with Cecilia Gyalog of MFB in Hungary and Marina Marasović of HBOR, Croatia.
Lise Chaumond, EAFRD managing authority in the Nouvelle-Aquitaine region, France highlights in her interview the importance of financial instruments for farmers and raising awareness of the results through events such as FI Campus.
Madis Reinup, from the Rural Development Foundation, Estonia, and Eduard Koitmaa, from the Ministry of Rural Affairs of the Republic of Estonia, discuss in their interview Estonia's experience with EMFF financial instruments and encourage other EMFF managing authorities to consider using financial instruments, affirming that events such as FI Campus "help to think out of the box in order to see what other Member States are doing".
A conversation-style interview with Eric von Breska, Director of the Policy Directorate at the Directorate-General for Regional and Urban Policy (DG REGIO) of the European Commission, and Simon Barnes, Head of Advisory Services at the European Investment Bank, provide the perspective of the fi-compass partner institutions on the topics considered at the FI Campus event.
Benefits, results and new opportunities for ESIF financial instruments are discussed in the interview with Axel Badrichani, Deputy Head of Financial Instruments and International Financial Institutions Relations Unit, DG REGIO. Frank Lee, Head of Financial Instruments Advisory Division, fi-compass team, discusses new opportunities for ESIF financial instruments and what's new in fi-compass.
We encourage you to explore these newly published video interviews and share them with interested colleagues.
All presentations from FI Campus 2018 are available here and the overview video from the event is published here.