Image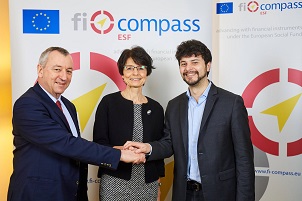 Our advisory services for European Social Fund (ESF) stakeholders have already involved a number of events this year as well as the release of new videos about ESF financial instruments.
Marianne Thyssen, European Commissioner for Employment, Social Affairs, Skills and Labour Mobility, opened our Second fi-compass ESF Conference 'Financial instruments funded by the European Social Fund – boosting social impact'. Commissioner Thyssen emphasised in her keynote speech that: "Grants and subsidies are no longer sufficient to address social issues, financial instruments and the European Fund for Strategic Investments should also play a role."
Combining ESF financial instruments with the European Fund for Structural Investments (EFSI) in order to boost social impacts in EU countries was also encouraged by Members of the European Parliament Brando Benifei and Georgi Pirinski, who opened the conference with Commissioner Thyssen. Delegates attending our Brussels conference appreciated the possibilities provided during the fi-compass event to exchange experience and ideas about using ESF financial instruments.
Similar peer-learning and knowledge transfer took place during another ESF event organised by fi-compass. This workshop was organised in Rome with a thematic focus on financial instruments supporting employment, entrepreneurship and social inclusion. Discussions were inspired by case study presentations describing the use of ESF financial instruments from different Member States.
ESF films from fi-compass
Video versions of fi-compass case study material have also been produced this year. These include interviews with managing authorities, financial intermediaries and final recipients who talk about their experience with using ESF financial instruments.
Italy's SELFIEmployment ESF financial instrument is featured in a fi-compass film that explains how young entrepreneurs are benefiting from micro and small loans for young people Not in Education, Employment or Training (NEET). Our ESF case study publication about this financial instrument provides further details about SELFIEmployment, which expects to receive at least 8 000 applications and to support 4 200 NEETS by December 2023, the end of the eligibility period.
In Poland, social economy entities are using the ESF through a financial instrument that supports the long-term unemployed and people with disabilities. Our video case study shares experiences from Poland's ESF managing authority, representatives from the Fund of funds, the financial intermediary, and final recipient testimonials. The latter show a café set-up to help employ minorities, and a foundation that used the ESF financial instrument to construct new hospital care facilities for autistic children.
Lithuania's Entrepreneurship Promotion Fund is documented in a film that explains this financial instrument's achievements with encouraging self-employment. The video shows how local entrepreneurs were able to take advantage of low-interest loans from credit unions combined with non-financial support to launch their businesses. An ESF case study publication about this financial instrument from the previous programming period provides further details.
A short ESF video was produced during the Rome workshop summarising how Sardinia's ESF managing authority used the ESF for financial instruments during the 2007-2013 programming period. Content also spotlights lessons that have been transferred to the current programming period.
Successful outcomes in Hungary from the fi-compass Capacity Building Service (CBS) for ESF managing authorities are highlighted by another ESF film that is now available on our website's video gallery. Speakers from the European Commission, fi-compass and Hungary's Ministry of Human Resources present an overview in this film of the advice available through CBS.