Image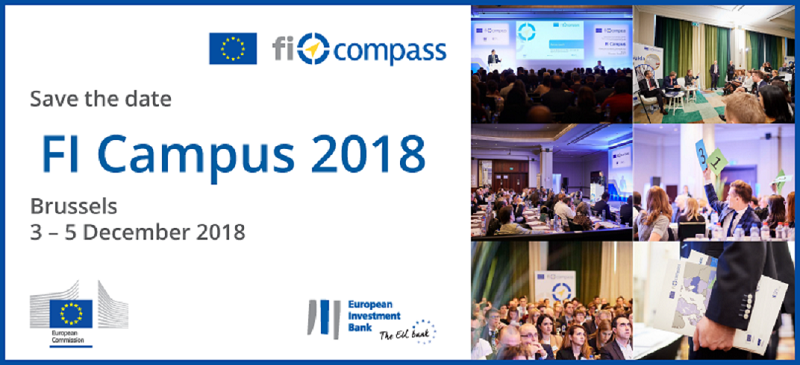 New knowledge sharing events are being organised by fi-compass for managing authorities of European Structural and Investment Funds (ESIF), financial intermediaries and other stakeholders involved with ESIF financial instruments.
Our upcoming events will provide advice about the latest regulatory developments for ESIF financial instruments, as well as exchange practical experiences from experts involved with different types of loan, guarantee and equity funds.
New events for the coming months include our FI Campus conference on 3-5 December 2018 in Brussels and a specialised seminar concentrating on equity instruments on 15-16 October 2018 in Berlin.
FI Campus 2018 – confirmed for 3-5 December 2018
Save the date: we are very pleased to announce that FI Campus is coming back in December 2018. This year's edition of our conference for ESIF financial instruments practitioners is titled 'What next for ESIF financial instruments? – Creating new opportunities under the Omnibus regulations'. It will welcome on 3-5 December 2018 in Brussels up to 500 delegates from ESIF managing authorities, financial intermediaries and other organisations involved in the deployment of ESIF financial instruments across the EU.
This year, special focus will be given to the question of how Member States and regions can benefit from the new opportunities provided under the Omnibus regulation and advance with ESIF financial instruments supporting different investment priorities foreseen in the Operational Programmes (OP) for the 2014-2020 programming period. Presentations will include advice about simplified rules for combining ESIF with the European Fund for Strategic Investments (EFSI).
The comprehensive programme for FI Campus 2018 will be published on the fi-compass website soon and we will announce via email once the online registrations start.
The programme will offer also this year a wide range of information sessions and interactive formats on different practical topics related to financial instruments under ESIF. Participants will be able to choose among a number of parallel sessions and create their own individual learning curricula according to their preferences. They will also have the opportunity to discuss and network with fellow financial instruments practitioners from other Member States and regions as well as with experts from the European Commission and European Investment Bank Group.
This year's edition of FI Campus builds on the success of the 2017 FI Campus conference in bringing practitioners together to share their experiences in using ESIF financial instruments and to explore different market practices. Get inspired to attend FI Campus 2018 by watching our video impression from last year.
Financial intermediaries' role in equity instruments in focus on 15-16 October 2018 in Berlin
Our forthcoming equity event titled 'Financial intermediaries and equity financial instruments – Working with managing authorities on ESIF equity instruments' is scheduled for 15 and 16 October in Berlin and has a programme of sessions designed for financial intermediaries, National Promotional Banks & Institutions (NPBIs) and ESIF managing authorities.
This event aims to provide participants a platform to exchange on ESIF equity financial instruments in the 2014-2020 programming period, with a special focus on the perspective of financial intermediaries and success factors for a fruitful collaboration between these key stakeholders and managing authorities. Attendees can expect inspiring case study presentations from a number of Member States and plenary discussions highlighting dos and don'ts of implementing equity investments. Furthermore, interactive discussion sessions on practical experiences and numerous networking opportunities to share experiences between peers will round off the event programme. You can find out more about the detailed event programme and register for our equity event here.
This gathering of EU expertise in the area of equity instruments under ESIF is a continuation of a series of fi-compass events dedicated to the role of financial intermediaries in deploying ESIF financial instruments in 2014-2020. Resources from the event about financial intermediaries and ESIF debt instruments (loans and guarantees) that took place on 24-25 June 2018 in Brussels can be explored here.