Image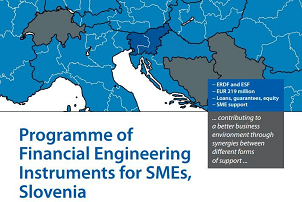 Slovenia's experiences with a financial instrument that offered investment support from the European Regional Development Fund (ERDF) and the European Social Fund (ESF), with the corresponding national co-financing shares, are the subject of a newly-published fi-compass case study. This Slovenian 'Programme of Financial Engineering Instruments for SMEs' was designed by the Government Office for Development and European Cohesion Policy (in its capacity as managing authority) during the 2007-2013 period. 
Preparatory research first confirmed gaps in availability of finance for micro, small and medium-sized enterprises (SMEs). Access to such investment support was found to be limited by high collateral requirements and a stringent system of credit ratings. In response, a holding fund of almost EUR 220 million (from the ERDF, ESF, national, and private resources) was then created to provide loans, guarantees, equity investments, and technical support grants for microenterprises and SMEs.
Simona Hočevar from the Slovenian managing authority appreciated the benefits of this SME support scheme noting that: "Cooperation with the Slovene Enterprise Fund, commercial banks, venture capital companies and other private investors allowed us to activate additional resources for SME financing. We were able to support SMEs at different growth stages. This helped to improve the success rate of the target enterprises and to efficiently support many businesses."
Further information about this Slovenian case study from fi-compass is available for downloading and sharing here.