Image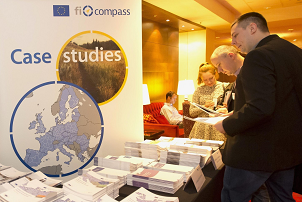 A collection of 13 new fi-compass publications have been released recently featuring case study information about loans, guarantees and equity investments supported by the European Structural and Investment (ESI) Funds.
These include experiences from Member States and regions that are moving forward with financial instruments for the 2014-2020 programming period, as well as other case studies that document success stories launched during the previous 2007-2013 programming period.
Our newly released case studies cover six examples from the European Regional Development Fund (ERDF), two cases relate to the European Agricultural Fund for Rural Development (EAFRD), and five examples are from the European Social Fund (ESF).
New ESF case studies
ESF stakeholders can find case study information from Italy's Marche region about a financial instrument that enhanced entrepreneurship and job creation opportunities. It supported unemployed and disadvantaged people (especially young people and women) by providing guarantees for medium‑term loans of between EUR 25 000 and EUR 50 000, with no collateral requirements.
Also from Italy, a new fi-compass case study describing achievements in the Lombardy region from an ESF instrument for cooperatives offers useful demonstration value. Details in the case study explain how this financial instrument combined public and private resources to produce useful results for the region.
Another new ESF case study features an innovative approach to using ESF in Poland's Mazovia province. This financial instrument's objective focused on tackling intra‑regional disparities in unemployment as well as underemployment and promotion of entrepreneurship. The financing was accompanied by training and business advice for local entrepreneurs in order to strengthen the quality and the viability of their business plans.
ESF case studies explaining a Danish entrepreneurship fund and a German mezzanine capital initiative are also newly published by fi-compass.
New ERDF case studies
Financial instruments from Slovakia and Scotland are the focus of two new ERDF case studies describing activities and issues related to the respective ex-ante assessments. Slovak insights summarise the preparations for multi-purpose ex-ante assessment targeted at small and medium‑sized enterprises (SMEs), energy production, and transport. Details in the Scottish case study highlights how the objectives for the ex-ante assessment focused on determining market failures in SME access to finance.
A new case study from France highlights how ERDF resources can be deployed side-by-side with the European Fund for Strategic Investments (EFSI) in a 'CAP Troisième Révolution Industrielle' Fund (CAP TRI). Representing a pioneer in combining ESIF with EFSI through an 'investment platform', the CAP TRI Fund has ambitious aims to help support the Nord-Pas de Calais Region become France's first carbon-neutral region by 2050. This CAP TRI Fund is expected to generate a portfolio of investments of EUR 200 million in total at project level, which could equate to 16 times the contribution from the ERDF Operational Programme. More than 60 project promoters have already expressed interest in using the EFSI-ERDF investment platform and some 30 projects have been analysed in detail to date. Two of these projects received approval by the Fund's Consultative Investment Committee and are expected to start being financed by the end of 2016.
Other recently published ERDF case studies from fi-compass include analysis of Bulgarian experiences from the previous programming period with an Acceleration and Seed instrument. It helped to create over 600 jobs by combining investment support with non‑financial aid such as business mentoring and access to co‑working space.
A further two ERDF case studies have been published recently which present financial instruments from Extremadura in Spain and Wallonia in Belgium. The latter 'INNODEM2 loan fund' used ERDF to introduce new loans with advantageous terms and conditions supporting SME diversification and innovation. INNODEM2 loans were coupled with free business development services like legal advice, accounting, communication, training and networking. 
Speaking about the Extremadura ERDF case study instrument during a fi-compass Member State seminar in Madrid, Pilar Durán Solano from the Ministry of Finance and Public Administration of the Government of Extremadura drew attention to how this first experience with financial instruments enabled them to increase their internal capacity. "When facing the launch of a financial instrument we have the impression that it is complicated, however it has been a testing ground to gain experience and to deal with the main problems that arise when you get started. But there are two main reasons that justify going for financial instruments compared to non-refundable grants: their revolving effect and the leverage effect."
New EAFRD case studies
A new EAFRD case study from Estonia showcases Europe's first rural development financial instrument for the 2014-2020 programming period. The financial instrument will provide loans to Estonian agricultural and rural SMEs. Some EUR 36 million of funding from the Estonian Rural Development Programme (RDP) would be channelled through this financial instrument's 'soft' loans, which should offer interest rates that are lower than the market rates, or provide longer repayment periods than commercial loans. The RDP instrument's funding package involves an EAFRD contribution of EUR 32.4 million and a national contribution of EUR 3.6 million.
Young farmers, producer groups and other groups such as start-ups, microenterprises, disabled people and women in rural areas are priority final recipients for Estonia's new EAFRD revolving fund. Design and set-up of this financial instrument were challenging for the managing authority but the case study demonstrates that such difficulties can be overcome and RDP financial instruments remain useful tools for achieving Member States' EAFRD objectives.
New information by fi-compass about Member States' tangible experiences with agricultural financial instruments has also been published in the last few weeks within initial findings from a fi-compass feasibility study titled: 'Potential role of market responsive EAFRD financial instruments'. This study is seeking to determine the market needs and gaps for an effective financial instrument supporting the dairy sector, and other possible agricultural sub-sectors. A first phase of the study assessed the potential to build on or replicate Ireland's 'MilkFlex' instrument, which has been designed to ensure flexibility in farmers' repayment of their loans during times when price volatility for milk can lead to fluctuating incomes for dairy producers. Presenting this Milkflex instrument during the second EU fi-compass conference on EAFRD financial instruments for agriculture and rural development in 2014-2020, Cathal Fitzgerald, Head of Food and Agriculture Investments at the Ireland Strategic Investment Fund said: "MilkFlex is recognised as the leading product to fund dairy expansion. The plan is to make the MilkFlex product available to the entire Irish Dairy sector." A second phase of the fi-compass feasibility study, starting in early 2017, will involve a wider analysis of other price-volatile, agricultural sectors. The outputs of these two phases will include potential models for a market responsive financial instrument or investment platform that could also use EAFRD resources.  
Further information about all of the aforementioned new case studies can be downloaded and shared from the fi-compass website's Resource Library.