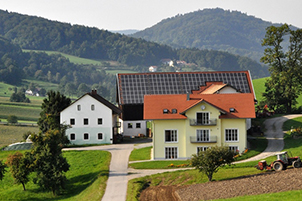 Financial instruments using the European Agricultural Fund for Rural Development (EAFRD) represent useful opportunities to enhance the range of financial services that are available for Europe's agriculture, agri-food sector and the rural economy. Fi-compass is providing targeted coaching services for EAFRD managing authorities to help facilitate this process.
Targeted coaching, which was launched in February 2016, is a new service from fi-compass and it has been introduced to help build capacity in EAFRD managing authorities to address their specific needs. The coaching is provided by the EIB fi-compass team and DG AGRI experts, and is geared towards explaining the things that decision-makers need to know about creating and using financial instruments to achieve Rural Development Programme (RDP) objectives and support the investments of their stakeholders.
EAFRD managing authorities from Bulgaria, Croatia, Italy (Veneto, Puglia, and Calabria), as well as the UK (Northern Ireland, Wales, and Scotland) have benefitted from the targeted coaching services to date. Other managing authorities, such as Slovenia and Latvia are also set to receive targeted coaching advice. Coaching sessions involve experts from fi-compass and the European Commission working with managing authorities directly during face-to-face meetings.
Initial feedback from these new fi-compass coaching sessions has been extremely positive with managing authority participants commenting that:
"Every bit of information provided has been helpful and gave us deeper insight in the implementation options for the financial instrument under our national RDP…. We found our knowledge base growing stronger, and along with that, interest for the financial instrument increased on all levels of the managing authority;" and 
"It …brought us very valuable issues to think about and further develop. We thank you for the great support and making us feel wiser." 
Tailored advice
Targeted coaching services are designed to meet the differing needs of managing authorities depending on the stages of implementing financial instruments. An 'initial coaching module' offers advice for those who are new to EAFRD financial instruments and an 'advanced module' is intended for those who have already gained experience during the early setting up or implementation stages of a financial instrument.
Advice included in the initial module covers a general understanding about the value-added of financial instruments in order to de-mystify basic concepts and prepare managing authorities should they decide to move forward with starting an ex-ante assessment. Advice involved in the advanced module provides RDP decision-makers with answers to more complex queries about relevant implementation options for EAFRD financial instruments as well as real practical situations.
Coaching sessions involve often more than ten people from the managing authorities working in the different areas of the rural development policy. The main topics covered (for instance and among many others) include: the ex ante assessment, the different types of instruments available, with particular reference to the off-the-shelf, the selection and implementation processes.
Managing authorities are able to discuss their questions during each of the coaching sessions, like for example:
What are the ways to maximise the beneficial terms and conditions of financing for farmers?
How to involve and stimulate banks to join various schemes, in order to achieve a higher leverage and a wider coverage of the instrument?
Which parts of a financial instrument needs to be more carefully thought through?
What is the role of state aid in setting up an EAFRD financial instrument? or
How to promote financial instruments among farmers and what are the real benefits for them (also compared to grants)?
EAFRD managing authorities that are interested in finding out more about the fi-compass targeted coaching services for RDPs can contact Nivelin Noev at DG AGRI (Nivelin.Noev[at]ec.europa.eu) or Mario Guido at the European Investment Bank (m.guido[at]eib.org).