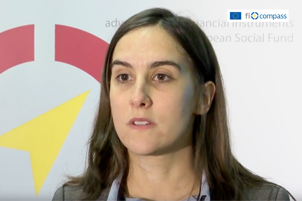 Helping Member States and their regions to advance with microfinance is an important part of fi-compass activity. This includes providing advisory services on microfinance and social entrepreneurship through the EU's Programme for Employment and Social Innovation Technical Assistance (EaSI TA), as well as encouraging the exchange of experience between microfinance providers.
France's Adie is an established microfinance institution that contributes to this learning process by sharing its knowhow and expertise about microfinance at fi-compass capacity building events. The organisation supports the development of microfinance in Member States through Adie's project work in Belgium, Greece, Luxembourg, and its base in France. Marie Degrand-Guillaud from Adie explains that "In these countries microfinance is developing quite well. It enables unemployed people and people with a low level of education as well as young people or female entrepreneurs to find a job, so it's really key."
Ms Degrand-Guillaud points to the possibilities of blending microfinance with grants that might be available for non-financial business services or innovative financial services, like those for instance from the European Social Fund (ESF). She highlights the benefits of such business models for the EU microcredit sector saying, "We are using ESF as a subsidy to finance our business development services." This is considered fundamental by Adie which uses different EU funds to refinance loans and guarantee schemes that share risks across their microloan portfolio.
All these EU finance streams are very important for Adie and the organisation appreciates the value of EU support. "We want to develop further because the unemployment crisis is huge. We need to have more of these tools on these three levels: subsidies from ESF, refinancing means and guarantee funds."
Its integrated funding approach has helped Adie to disburse more than 166 500 loans since 1989, and to finance 180 500 clients in 2015. Their outstanding on this "quite large portfolio of loans" was exceeding EUR 100 million in 2015 and their default rate is around seven percent. Hence, from Ms Degrand-Guillaud's perspective, the future for EU microfinance is encouragingly bright. She promotes this notion underlining how they "believe that microfinance can be a very powerful tool in any kind of European context."
Adie welcomes the opportunities provided by fi-compass and other microfinance fora for collaboration, networking, and knowhow sharing around the Member States and their regions. They remain enthusiastic and interested to "help any country or organisation willing to start or develop microfinance in Europe."
Further info:
Adie case study from fi-compass
Adie experience documented in the fi-compass factsheet on Personal Loans