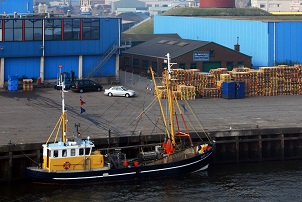 Financial instruments can be used to implement the European Maritime and Fisheries Fund (EMFF) including supporting sustainable development of fishery and aquaculture areas, Integrated Maritime Policy, processing and aquaculture, among others. Whilst such opportunities are available throughout EU fishery areas, the fi-compass EMFF scoping study highlights that lack of knowledge about revolving funds within EMFF managing authorities can limit the launch of more financial instruments for fisheries.
One way to help overcome EMFF knowledge gaps is to use the experience from others. This approach is demonstrated by lessons learned from the Dutch Ministry of Economic Affairs. It identified a decrease in SME financing in the marine sector and was keen to provide support via a revolving fund. They found that they could use an existing European Regional Development Fund (ERDF) holding fund to help disseminate EU fisheries funding in a financial instrument. This allowed them to save time with the instrument's set-up work. A fi-compass presentation describing their approach can be found here. 
The governance structure of the Dutch instrument was inherited from the ERDF financial instrument and the same procurement process was used to select a fund manager. Then the managing authority found itself on a steep learning curve. Harold Hooglander from the Dutch Ministry of Economic Affairs explains, "Public servants had to learn the language of the banking sector but at the same time they had to explain that the loans used to disburse public funds were not competing with the loans offered by the banks. We had to bring the two worlds together and we did".
The Dutch financial instrument was set up at the end of 2013 and has so far disbursed €1.2 million of the €3.5 million available. An evaluation will take place in the second half of 2016, potentially followed by an ex-ante assessment for a new instrument. The EMFF managing authority's confidence has been boosted by their experience to date and decisions about any future instrument would depend on ex-ante assessment of market failure. Dr Hooglander stresses that financial instruments support the real economy so their implementation should be market oriented, "Once the added value in terms of the potential economic viability is established, investments financed by financial instruments are more effective than grants".
More information about EMFF opportunities is explained in the fi-compass factsheet on financial instruments co-funded by the EMFF and presentations from fi-compass events also contain further material about EMFF financial instruments, such as the Rural Development Foundation in Estonia.