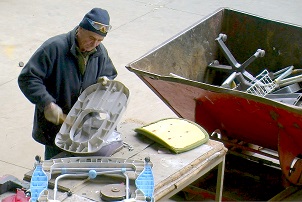 A new advisory publication has been released by fi-compass which explains the role that financial instruments for social enterprises can play in supporting Member States' objectives for inclusion and employment. This factsheet, titled 'Financial instruments working with social entrepreneurship', is now available for downloading and sharing via the fi-compass website.
Its purpose includes raising awareness about how the European Social Fund (ESF) can be used proactively by Member States to stimulate social enterprise investments through financial instruments. Advice in the new publication focuses on the European Commission's definition of a social enterprise as "an operator in the social economy whose main objective is to have a social impact rather than make a profit for their owners or shareholders".
Factsheet content has been designed to address a broad spectrum of actors and organisations including ESF managing authorities, financial intermediaries, co-investors, social enterprises, and other ESF targets groups. Referring to the audience for this new fi-compass publication, Andrea Da Pozzo from the European Commission's DG Employment, Social Affairs & Inclusion says, "Financial instruments under the ESF should be seen not only as the provision of financial support through specific financial products, but rather as the whole process to design the support starting from the identification of the financial needs of the potential target groups, through the construction of the governance structure, until the disbursement and reuse of the resources".
"This process therefore involves a wide range of different actors, stakeholders, financial institutions, potential investors, local and national authorities, and beneficiaries. Moreover, social enterprises normally operate in a broad range of activities and sectors which involve several social groups, often the same as those targeted by the ESF".
Information in the factsheet describes benefits for these ESF stakeholders from using financial instruments and concentrates on advice for ESF managing authorities in, among other things:
Identifying and distinguishing specific financial needs for social enterprise and how to address these needs using ESF financial instruments;
Designing appropriate financial instruments and financial products that take account of social enterprises' characteristics and financial constraints as well as the social impact investment framework;
Selecting financial intermediaries and identifying the most appropriate requirements for working with social enterprises;
Combining ESF revolving funds with other forms of support in order to reach more final recipients and exploit potential synergies with EU level instruments.
Useful information in the factsheet for financial intermediaries clarifies the potential that exists to achieve financial returns through social goals. Other advice for credit providers aims to help increase understanding about key constraints on social impact investments. These potential problems are reviewed alongside opportunities to overcome such barriers.
Summing up his comments on the new fi-compass publication, Mr Da Pozzo believes that "social enterprises can benefit from this factsheet because they can recognise the new possibilities of financial support offered by the ESF and understand the mechanisms to design and implement the financial instruments, as well as how the main financial products can work in practice".
Click here to download and share the new ESF factsheet on Social Entrepreneurship.