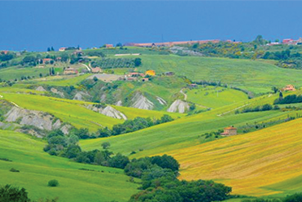 Targeted coaching for the relevant Member State managing authorities on how best to use financial instrument possibilities available under EU Rural Development funding (EAFRD) has now been launched.
As announced by EU Commissioner Phil Hogan at a fi-compass seminar on financial instruments in October in Riga, this pilot phase foresees targeted coaching for EAFRD managing authorities so that they can better understand and implement the available options, for example by speeding up programming and implementation and removing bottlenecks in the process.
The service will be provided by fi-compass and supported by the Commission's Directorate-General for Agriculture and Rural Development (DG AGRI). The first managing authority to receive this support is Bulgaria.
Commissioner Hogan has warmly welcomed the start of the pilot phase, stating: "I am a keen supporter of financial instruments because I see them as a useful tool for leveraging private funds. It is therefore important that we help Member State managing authorities make the best out of the available opportunities so that we can facilitate and maximise this investment, and thereby create EU growth and jobs."
European Investment Bank Vice-President Pim Van Ballekom added: "Given this challenging time for the European agricultural sector, where we all must strive for more efficient use of scarce public resources, we firmly believe in the idea of using financial instruments to help leverage private sector resources and revolve the public funds for investment in productive and sustainable agricultural activities.  This 'targeting coaching' pilot is a natural extension of the existing fi-compass platform of knowledge and awareness raising on financial instruments and we are particularly excited about the opportunity to extend EIB Group's skills and experience in this regard to EAFRD managing authorities, to support their efforts to establish financial instruments under their Rural Development Programmes."
During the pilot phase, which lasts until the end of April, a total of three EAFRD managing authorities are to be assisted. Subject to approval of the new fi-compass work programme 2016-2018, the service will be mainstreamed and open to all EAFRD managing authorities. Thereafter, EAFRD managing authorities interested in being assisted will have the opportunity to submit requests and benefit from the coaching.
The targeted coaching will offer two general formats, a "First coaching module" for EAFRD managing authorities who are interested in, or taking early steps towards, implementing financial instruments and an "Advanced coaching module" for EAFRD managing authorities with existing instruments in the detailed planning or implementation stage.
As a general principle, the targeted coaching will be offered to managing authorities who have already shown an effort and/or a commitment to consider using or advancing with EAFRD financial instruments. Experience from the past programming period have shown that supporting such front-runners and promoting their efforts/results could have a strong signalling effect on the value-added and advantages associated with financial instruments, respectively on their use for agriculture, forestry and the rural economy (businesses and infrastructure), and thereby encourage others to follow.