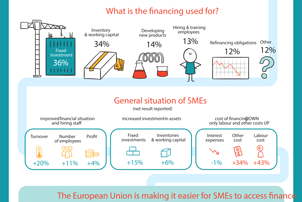 Business support for small and medium sized enterprises (SMEs) remains a common focus for the Member States' financial instruments. Success factors for these instruments include the importance of managing authorities understanding SMEs financing requirements. Success is also aided when SMEs understand the support available from managing authorities.
Useful sources of information are made available by the European Commission. DG Growth for example provides a series of handbooks concerning support for SMEs in the context of Cohesion Policy. These are available in different EU languages and they feature (among other topics) a general guide about using ESIF for promoting entrepreneurship policy. Such advice is intended to "serve as a 'cookbook' on how to design, apply for and implement concrete projects in support of SMEs". Related materials from DG Growth include (among others) thematic publications concentrating on Supporting the Internationalisation of SMEs and Regional implementation of the SBA – Small Business Act for Europe.
Other useful EU material is available through www.access2finance. SMEs visiting the acces2finance website can find contact details and information about financial institutions that provide EU finance in their country or region. Information can be filtered by a specific financing need, company category and sector. The website is easy to navigate, complete and up-to-date. It covers available EU funding sources including the European Structural and Investment Funds (ESIF) and national sources of finance, CIP, COSME, InnovFin, EaSI, LIFE, EFSI and funding by the EIB and the EIF.
Knowledge about SMEs' financing patterns are provided in results from the SAFE survey, which can be used by ESIF stakeholders like managing authorities to enhance evidence-based policy making. SAFE survey content targets SME managers and measures their opinions, attitudes and expectations regarding different aspects of access to finance. It covers a detailed question set about different options for accessing business credit, as well as the corresponding challenges that SMEs face during this process. 
SAFE data is available for the past several years and its long-term systematic approach allows for analysis of trends in SME financing situations. The most up-to-date survey was conducted in September and October 2015 in cooperation with the European Central Bank. Findings from this latest survey show that the main sources of external financing for SMEs are currently loans and other credit lines. SMEs also report that they consider access to public funding important for their financing in the future.
Business feedback concerning loans indicate that, while SME requirements vary between Member States, access to bank loans seems to be improving overall. For instance, some 78% of SMEs in the poll stated that they received all or part of the loan they requested. Survey outcomes also report fewer loan requests being turned down (from 15% in 2009 to only 8% in 2015).
Information from the survey about how financing is being used by SMEs points to strong interest in fixed investments (which consumed 36% of the finance requests covered by the survey). Other priorities for SME support included inventory and capital (34%), developing new products (14%), hiring (13%), and refinancing obligations (12%).
Guarantees for loans and business support services are considered to be similarly important factors in SMEs' future financing. Equity attracts specific types of businesses and in 2015, 13% of EU28 SMEs reported an improvement in the availability of equity financing - versus 7% that indicated it has deteriorated. The most significant development registered about the availability of equity financing is that it has become a relevant type of financing to a much larger proportion of high growth SMEs in the survey years.
You can read more about the SAFE reports here as well as download an interesting infographic which summarises the main survey results from 2015.