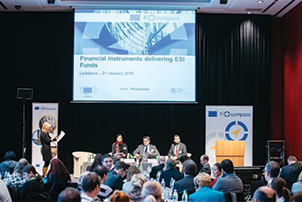 The fi-compass seminar series is continuing to attract a wide range of participants who are interested in learning about financial instruments under the European Structural and Investment Funds (ESIF). Some 2850 stakeholders have attended the fi-compass events to date. Further Member States seminars are planned for the coming weeks in Paris and Nicosia.
Ten Member State seminars have already been held during 2016 in Vilnius, Tallinn, Budapest, Warsaw, Berlin, London, The Hague, Malta, Ljubljana, and Lisbon. Previous editions of the newsletter include reports and videos from the 2015 events. Event material such as presentations, case studies and photographs are also available on the individual events pages.
Positive feedback from stakeholders
A fi-compass survey carried out in November 2015 confirmed that knowledge sharing at events is considered to be extremely beneficial. Participants at fi-compass events especially value the seminars' knowledge sharing and networking opportunities as well as learning from practical examples. Survey respondents reported that the seminars have given them new ideas about the way financial instruments can be used and managed and that workshops and training sessions provide the real life examples they need. Opportunities to meet experts at fi-compass events from the European Commission and European Investment Bank Group is another much-appreciated benefit.
Direct feedback from participants after fi-compass seminars this year reinforces the events' value. Delegates report the events as having "very good speakers", "effective presentations and useful info". Comments explaining what people liked most about the events have included: "fi-compass seminars offer new additional information which is very useful when implementing financial instruments", "the most important people were there", and "I think the interactions during the breaks were very useful to discuss issues more in detail".
Workshops and interactive exercises
Delegates, whether they are new to ESIF financial instruments or already experienced, welcome the chance to talk to practitioners and experts. This happens during the events' two parallel workshops which form part of the Member States seminars.
The first workshop explores the potential and features of ESIF financial instruments and is designed for participants with a general knowledge and experience of financial instruments. The second workshop provides more in-depth analysis of key aspects of financial instrument design. Content of the second workshop evolved to focus even further on the individual steps to take during this design phase for ESIF financial instruments. Three elements of a funding agreement are addressed through practical examples describing: capabilities for bodies implementing ESIF financial instruments; phasing of payments; and identification of result indicators. This second workshop session at the Member State events is recommended for participants with a more precise knowledge of financial instruments who are interested in the details.
Information related to all past and future events is published regularly on the fi-compass website. In addition, snapshot interviews of event participants are available on the fi-compass YouTube channel.