Capacity building through knowledge exchange is an important part of the fi-compass mandate. This includes identifying and disseminating knowhow that has been developed by experienced practitioners who are involved in the design and implementation of financial instruments funded by European Structural and Investment Funds (ESIF).
The fi-compass website features case studies from Member States describing different approaches to using financial instruments in the context of ESIF. These include details about the individual instruments' structure and lessons learned by people who manage the instruments.
One such case study example is the Entrepreneurship Promotion Fund (EPF) in Lithuania, which targets beneficiaries from disadvantaged groups (such as the unemployed, disabled, and people under 29 or over 50). This case study has been presented on several occasions during the fi-compass event series.
Lithuania's EPF used European Social Fund (ESF) co-finance to promote self-employment and entrepreneurship in the country through a EUR 14.48 million loan fund, which was complemented by non-financial support, especially training and development.  The Ministry of Social Security and Labour acted as intermediate body, while a state-owned institution (INVEGA) managed the holding fund. A consortium of 57 Lithuanian credit unions was involved in implementing the EPF's loan finance along with its training and coaching business development services.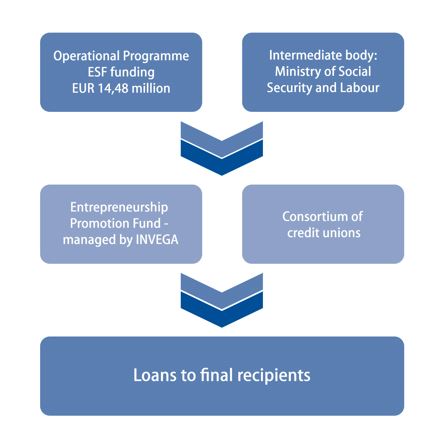 Funding of the Entrepreneurship Promotion Fund
Micro and small enterprises that have been operating for less than one year were targeted by the instrument as well as individual entrepreneurs and business-oriented social enterprises. A key success factor of the EPF was its awareness raising campaign. Marketing channels made use of public employment services, NGOs and local communities. Together they put in place innovative communication tools such as a countrywide promotional campaign titled: "Give me a chance".
A TV series starring famous actors was used to help demistify common misconceptions about starting a business. The TV campaign called for new business concepts, encouraging viewers to submit their ideas. It reached 450 000 internet users and the target for new business ideas was exceeded by 60%. Moreover, the consortium of credit unions helped by using its many sales points to relay the message to a large number of potential beneficiaries. A new TV show in the second stage of the campaign followed beneficiaries as they set up their businesses.
Outcomes from this success story in promoting ESIF financial instruments led to the EPF helping to create nearly 2000 jobs through self-employment and entrepreneurship.