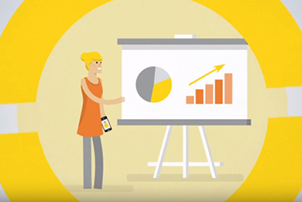 EU Member States are being encouraged to make an efficient use of the European Structural and Investment Funds (ESIF) through the use of financial instruments. Lessons learned from the successes of financial instruments using the ESIF predecessor funds can provide valuable experience, and fi-compass is involved in sharing this experience through advisory products such as case studies.
Our most recently published case study features a venture capital (VC) co-investment instrument from the Languedoc-Roussillon region in France. This financial instrument was established to provide support to innovative start-ups and to finance SMEs with a high potential for development.
Languedoc-Roussillon's VC co-investment scheme involves substantial participation from private co-investors. It was established with JEREMIE support and while the 'SAS JEREMIE LR Holding Fund' provides €11 million (€5.5 million from the European Regional Development Fund [ERDF] and €5.5 million from Languedoc-Roussillon Region) the regional VC company SORIDEC, as manager of the co-investment vehicle, committed to mobilise at least another €11 million of private funds. This doubled the capacity of the instrument to €22 million. In addition to SAS JEREMIE LR, other privately held co-investment operators provided further resources for individual investments in the SMEs.
SORIDEC was selected by the European Investment Fund, acting as JEREMIE Holding Fund manager, to invest equity in Languedoc-Roussillon SMEs. SORIDEC is a regional management company that has been active in private equity for more than 20 years, facilitating SME access to equity financing and increasing investments in the region. It provides finance and support to founders of enterprises and entrepreneurs. Through its equity investments, SORIDEC generally takes minority shareholdings in enterprises, which enables it to play an effective role as a partner over the investment period, generally from four to seven years. SORIDEC provides SMEs with a stable shareholding structure as well as finance.
An example of this VC fund's beneficial support is Medtech. Created in 2002, Medtech was backed by four VC investment funds, including the co-investment fund managed by SORIDEC. Having raised €20 million in 2013, following an Initial Public Offering (IPO) on the NYSE Euronext in Paris, Medtech is approaching €73 million of capitalisation. Thanks to its continuous innovation, made possible also with support from the ERDF financial instrument, Medtech is now considered a market leader in surgical robotics in the world.
Following the success of the instruments, the region announced that it would not only continue using financial instruments under ERDF, but also further develop by setting up a second, larger fund of funds called 'FOSTER TPE-SMEs: the new JEREMIE'. The new economic development initiative will combine ESIF co-finance from the ERDF and European Agricultural Fund for Rural Development (EAFRD). Further details about this interesting case study can be found in the resource section of the fi-compass website.
Other case studies in our resource section that will be relevant to ESIF managing authorities seeking equity solutions include an example from Spain's Catalonia region. Here a financial instrument was implemented to provide not only equity but also loans as well as guarantees. It used ERDF co-finance and targeted technology SMEs. Useful lessons learned from this Catalan fund point to a need for critical mass to ensure effective participation from local banks, guarantee companies, VC firms and business angel networks.
Managing authorities interested in knowing how other financial instruments can be used to provide risk finance for EU start-ups will find the information that has been collected by fi-compass from many Member States particularly useful.
See for instance how Germany's Technology Start-Up Fund in Saxony has bridged financing gaps for highly innovative entrepreneurs in the region. Our case study about this equity fund describes how the public sector and financial entities can work together to support the regional economy and promote the creation and growth of young and innovative SMEs.
New case studies in our pipeline of advisory services include analysis of Bulgaria's Entrepreneurship Acceleration and Seed Financial Instrument that offered JEREMIE support as a start-up instrument providing novel risk capital. This example will be of interest to managing authorities faced with the challenge of boosting entrepreneurial cultures in their territories, because prior to the financial instrument, private equity funds for start-up capital were not very common in Bulgaria.
What's more, the new fund helped to address other gaps in the Member State's finance sector such as: the availability of only one 'classic' VC fund in the country; a lack of private investors; and mentorship in the country was unstructured. The fund developed a start-up infrastructure supporting 4000 funding applications from new businesses over three years, 170 of which received investments totalling €17 million. Such results helped Bulgaria to become fourth in Europe for accelerated start-ups. 
For further information on similar financial instrument success stories and practical tools for ESIF managing authorities, please take a minute to browse through our full range of advisory services on the fi-compass website.