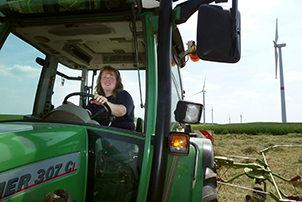 Member States are being encouraged to more than double the amount of financial instruments that use the European Agricultural Fund for Rural Development (EAFRD). Regional seminars in Riga and Vienna, as well as first European conference in Dublin have already taken place, organised by fi-compass in support of this goal. Each of the fi-compass EAFRD events included an emphasis on explaining the added value of EAFRD financial instruments, learning from already existing experience with financial instruments for agriculture, as well as pin pointing the significant potential for financial instrument assistance to farmers and others involved in the agri-food chain and the rural development economy.
During the recent fi-compass EAFRD seminar in Riga for example, European Commissioner for Agriculture and Rural Development, Phil Hogan re-asserted in his speech to participants how he believes that: "financial instruments are key tools to increase the leverage of the EAFRD". He went on to highlight the cooperation between the European Commission and the European Investment Bank which is helping to develop: "schemes that reflect the present and future needs of our farmers, foresters and related rural businesses." Commissioner Hogan noted that these include a guarantee scheme for farmers.
Financial instruments co-financed by the EAFRD that offer guarantee products can be used to improve access to loans for farmers and other agri-food businesses. Such benefits from guarantees have been explained during the fi-compass seminars using practical experiences from EAFRD or other relevant case studies. These include guarantee examples from Estonia, Portugal, and Bulgaria.
Katrin Sturm, Secretary General of the European Association of Guarantee Institutions (AECM) described in her presentation to our Riga event how guarantee institutions can assist EAFRD managing authorities, namely through improved cost efficiency (due to risk sharing) and increased leverage effects. Tamás Leskó, Director of AVHGA (Rural Credit Guarantee Foundation) in Hungary, showed how the foundation, in partnership with 141 financial institutions, supports agriculture and rural SMEs via guarantees, loans, factoring and leasing to the average amount of €53 000.
ISMEA, an Italian public institution for agri-food market working under the supervision of the Ministry of Agriculture is another interesting rural development case study, which was presented in Vienna. Using a limited liabilities company, it creates credit and financial guarantee instruments for the benefit of agricultural holdings. The organisation has a guarantee cap of up to €1 million to micro and small enterprises and €2 million for medium-sized enterprises, thereby enabling rural businesses to gain access to the loans they need for investments.
EAFRD financial instruments are also being promoted during the fi-compass Member State events through presentations and case studies. A useful example here is the successful guarantee fund for Romanian farmers, which was explained to ESIF stakeholders attending fi-compass events in Brussels and Madrid.
A key message from our macro-regional EAFRD and Member State seminar series is the belief that more can be done for rural development using financial instruments. The potential is there, along with using fi-compass advisory support, for managing authorities with useful experience to share lessons learned from the planning and practicalities of implementing financial instruments for the agricultural sector.
A video summary from one of the EAFRD regional seminars highlights how these fi-compass events remain relevant and useful for delegates from the European agriculture and rural development sector.