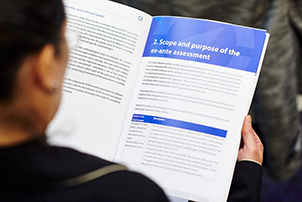 Ex-ante assessments are mandatory for managing authorities setting up or continuing a financial instrument in the 2014-2020 programming period. Assessments highlight markets failures and financial gaps, they also estimate the potential added value and provide a solid base for a proposed investment strategy with clear targets and expected results. To help managing authorities with this new required process the European Commission has released an in-depth guidance covering Ex-ante Assessment Methodology. Volume III addresses specifically the competitiveness of SMEs, which is the area where financial instruments have been used most.
The SME-related ex-ante assessment should be carried out in two stages. First is a broad analysis of the market in which the financial instrument will be implemented. Second is development of the implementation, delivery and management options for the proposed instrument.
Practical advice about market analysis is included in an article from the European Investment Fund (EIF) Research and Market team. This features SME related ex-ante assessments carried out by the EIF. The EIF's work is also described in the Guidelines for SME Access to Finance Market Assessments (GAFMA, 2014) which provide a basis for performing ex-ante SME finance market assessment. The different approaches provide useful examples that can help ESIF managing authorities to follow good practice. The GAFMA includes, for instance, an example of statistical methodology used to gauge the SME 'financing gap' at both the EU level, and at Member State level. It also includes a sample survey on access to finance for SMEs, with related scenarios, as well as an example of a survey framework.
These tools should be regarded as support when carrying out a thorough assessment that will justify the use of financial instruments in a particular situation. A tangible example is Bulgaria's experience with the implementation of a 2007-2013 ERDF-funded guarantee-type financial instrument directed at SMEs. 
See other open access articles from the European Structural and Investment Funds Journal for additional perspectives.