Image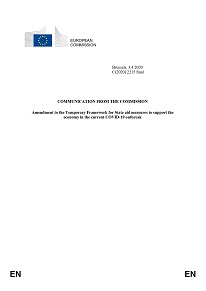 The State aid Temporary Framework adopted by the European Commission on 19 March in response to the COVID-19 outbreak has been extended to provide a number of additional flexibilities.
The Amendment to the Temporary Framework (C(2020) 2215 final) includes a number of clarifications and amendments to the existing types of support that Member States can give to companies in need. For example, it now enables them to give, up to the nominal value of EUR 800 000 per company, zero-interest loans, guarantees on loans covering 100% of the risk, or provide equity. For a full overview, please have a look at the Commission Communication on this subject made on April 3rd.
To address urgent liquidity needs of small and medium-sized enterprises in a very speedy manner, this can be combined also with so-called de minimis aid (to bring the aid per company to up to EUR 1 million) and with other types of aid.
The Commission is continuously assessing if further measures are necessary to complement the toolbox for Member States to support their economy in these difficult times and help companies bounce back strongly after the crisis, including by further amending the Temporary Framework.