Image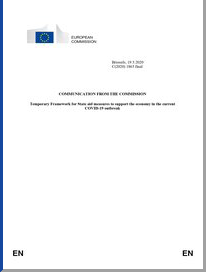 The European Commission has adopted legislation to introduce a temporary framework to enable Member States to use the full flexibility foreseen under State aid rules to support the economy in the context of the COVID-19 outbreak.
The Temporary Framework includes a number of flexibilities that could be used to scale up and enhance existing ESIF financial instruments and/or set up new schemes to support EU businesses. These include amongst other things:
Direct grants of up to EUR 800 000 which can be made to SMEs and larger businesses. This could include support such as interest rate subsidies or investment grant support that could potentially be combined with financial instruments;
Guarantees at reduced premium to enable banks to extend finance to businesses;
Subsidised public loans to companies at reduced interest rates; and
Clarity that Member States may use banks and other financial intermediaries to provide the support, subject to the benefit being passed on to the final recipients.
In addition, the Commission have introduced a fast track procedure allowing Member States to notify schemes designed to address the economic impact of the COVID-19 crisis. Already a number of Member States have notified schemes which have been approved by the Commission in record speed, some taking as short as one day between notification of the measure and adoption of the decision. These include a scheme to support the production of medical equipment and protective clothing, direct grant schemes and loan and guarantee operations to SMEs.
As a first step, it is planned to implement this framework until the end of December 2020. The Commission will then assess whether or not it is necessary to extend it.
A template for notification of measures, together with supporting information and notices of all the approved schemes can be found on the European Commission's dedicated State aid-COVID-19 webpage.