Image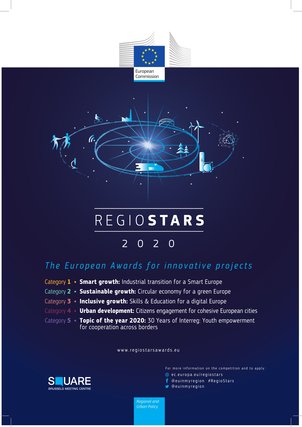 The RegioStars Awards 2020 have been launched by the European Commission. Applications are invited from EU funded projects which demonstrate excellence and new approaches in regional development. fi-compass encourages you especially to submit to this competition examples of financial instruments under European Structural and Investment Funds (ESIF) and the projects they are supporting.
The Awards, which will be presented during the European Week of Regions and Cities (EWRC) in Brussels in October 2020, will provide an opportunity to celebrate successful EU funded projects with the goal of inspiring other regions and project managers. Applications are invited in five categories that are crucial for the future of EU regional policy:
• Industrial transition for a smart Europe;
• Circular Economy for a green Europe;
• Skills & Education for a digital Europe;
• Citizens engagement for cohesive European cities;
• 30 years of Interreg: Youth empowerment for cooperation across borders (Topic of the Year).
High-level academics will assess the submitted project applications and crown the winners. In addition, the public will decide on its own winner through a public online vote and award the Public choice award to one of the projects.
The Guide for Applicants describes the Award criteria to be applied by the expert panel of academics. To succeed, projects must demonstrate innovation, replicability and financial sustainability, making ESIF financial instruments ideal candidates to be considered for the Awards. Promoters of financial instruments interested in submitting an application for the RegioStars Awards 2020 can find more information here. The online application platform is open from 2 March until 9 May 2020.