Image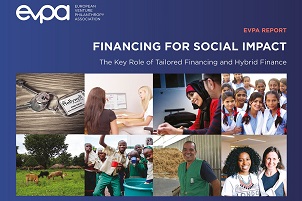 Opportunities exist for financial instruments to support social investment by working alongside venture philanthropy. This topic was discussed by delegates at our European Social Fund conference in Brussels earlier this year.
Speaking during the conference, Madeleine Clarke from the European Venture Philanthropy Association (EVPA) noted that "philanthropy is not seeking financial advantage" and that "philanthropy can make useful contributions to social impact investments, particularly during the early development stages of investment projects where public or private investments may be limited in its ability to take risks."
Philanthropy can thus provide opportunities to help to get new ideas started and the EVPA is actively involved in promoting cooperation between social investors and philanthropy. Their special report, 'Financing for Social Impact - The Key Role of Tailored Financing and Hybrid Finance' aims to increase awareness about how philanthropic funding can be shaped in a way that meets the financial needs of 'social purpose organisations'.
EVPA's Priscilla Boiardi explained that "in the venture philanthropy and social investment space there are a lot of resources available in terms of grants or social investments and there are a lot of new actors entering in the space. The problem is that sometimes is not so easy to match the needs of the social purpose organisations and the money that is available from social investors."
Addressing this challenge was a driver behind the EVPA report, which was produced by a group of some 30 different experts in this field of social impact finance. They focused their attention on the processes through which venture philanthropy organisations and social investors can choose the most suitable financial product available, including grants, debt, equity and also hybrid financial instruments.
Evolving business models
Alessia Gianoncelli from the EVPA said that "in this report we have developed the three step approach to tailored financing". This shows how the choice of funding instruments "depends on both the risk, return and impact profile of the venture philanthropy organisation and social investors. Also it depends on the characteristics of the social purpose organisations (e.g. their business model and stage of development)."
Priscilla Boiardi observed how "what we have noticed is that social purpose organisations are increasingly using business models that combine non-profit parts with profit parts. So business models are evolving. That means also that venture philanthropy organisations and capital providers in general need to evolve in the way they provide resources to social purpose organisations. This is why we see the emergence of hybrid finance."
"Hybrid finance is the world where different risk, return, impact profiles of capital providers come together. It's the moment when different actors that have totally different objectives, in terms of impact and financial return, find the way of collaborating that gives them achievement of their objectives, both in terms of impact and in terms of financial returns. It also helps social purpose organisations to access the right type of capital, at the right moment in time in their development to support them in the best possible way."
Ms Boiardi encourages social impact stakeholders to make good use of the Financing for Social Impact report concluding that "we really hope that this report will serve as a starting point for discussions around what works and what doesn't work in supporting social purpose organisations, through grant, debt, equity, and how different financing can be combined to achieve the maximum societal impact."