Image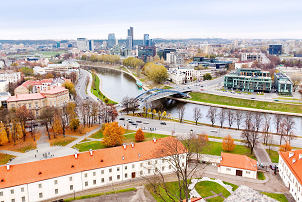 Lithuania's financial instrument promoting energy efficiency in apartment buildings has been featured as an interesting case study at fi-compass events, and we went to speak to some of the people involved to find out more about this innovative way of using the European Regional Development Fund (ERDF).
Inesis Kiškis from Lithuania's Ministry of Environment has been involved with the financial instrument from its early planning stages in 2009 and he explains its overall objectives. "The aim of our financial instrument was to improve the living conditions of residents and to reduce their energy costs. At the same time, we understood that such a financial instrument would allow us to reduce our dependence on imported fuel, revive the construction sector after the economic crisis, and protect the environment."
"We have invested around EUR 473 million and more than 44 000 apartment owners have used the opportunity to renovate their homes. While implementing this project we worked in close cooperation with national agencies for housing and energy efficiency as well as the Ministry of Finance."
Rūta Dapkutė-Stankevičienė is from the ERDF managing authority at Lithuania's Ministry of Finance and she provided further insight into the financial instrument's rationale, saying: "We are the administering authority for the EU funds and we are constantly looking for ways to invest these public funds in the most efficient way. One of the ways is through financial instruments. The advantages of such a financial instrument include continuity, longevity and added value."
Ms Dapkutė-Stankevičienė highlights the partnership between public and private sectors as a success factor for their financial instrument, in particular, from her point of view: "the participation of citizens as well as the involvement of the apartment block administrators, and collaboration with financial intermediaries."
Urban regeneration
Private banks provided effective financial intermediary services during the implementation of this loan fund's urban regeneration goals. Kęstutis Grinius from Šiaulių bankas has been working with the financial instrument for several years and he underlined the business case for Šiaulių bankas' engagement with this ERDF financial instrument saying: "The bank considers such a renovation programme as a good business opportunity and we are very proud to be part of it."
"Providing finance for energy efficiency investments has now become one of Šiaulių bankas' five core strategic priorities and, being socially responsible, we are happy to contribute because it has helped to renovate buildings in larger cities as well as in rural areas. As a financial intermediary, we provide credit for renovation projects, we administer such loans, and we also help applicants to complete the necessary credit applications."
In addition to partnership working, the importance of stimulating sufficient demand for renovation loans from apartment owners has been identified as a key lesson by the financial instrument partners. This can be a critical issue in multi-apartment building blocks, and good results were achieved by involving building administrators in raising awareness about the loans for renovation investments.
Algis Budreika is one such administrator of a multi-apartment block in Vilnius and he believes that the renovation loan conditions are another success factor. "The renovation model is very convenient as it is not linked to the person but instead to the apartment. If the apartment is sold, the new owner takes over the obligation to continue the payments due as a result of the renovation. The percentage of residents in the community deciding to renovate their homes here in this way has been around 80%."
Final recipients of the financial instrument include the Jakaitis family. Linas Jakaitis appreciates the loan that his family received saying: "All apartment owners are happy with the results. Our energy costs are around 45% less and we would certainly encourage others to take advantage of the renovation assistance."
More details about this ERDF financial instrument (including its funding arrangements, operational structure, and new developments for 2014-2020) will be available soon in a new case study publication from fi-compass. Keep an eye on our website's resource library for new information resources.