Image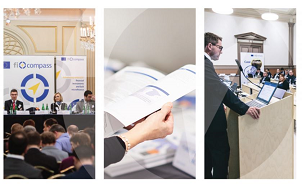 Our three day event entitled FI Campus was held in Brussels from Wednesday, 29 November to Friday, 1 December 2017. Its focus was on financial instruments under the European Structural and Investment Funds (ESIF) in the 2014-2020 programming period, and the event was aimed especially at ESIF managing authorities, financial intermediaries, regions, cities and their stakeholders.
The theme of FI Campus was 'Financial instruments, powered by you', which reflected the valuable experience from the growing community of practitioners who have set up and are now operating ESIF financial instruments. These include loans, guarantees, and equity support for investments in a diverse range of sectors such as small and medium sized enterprises (SMEs), energy efficiency, urban development, and research & development.
With over 30 FI Campus sessions on offer during the three-day event, participants were able to tailor their individual programme to meet their own specific needs. Sessions on European Commission (EC) Regulatory Guidance, ranging from State aid to managing, monitoring and audit were given by EC experts. Participants were also able to hear case studies related to different thematic objectives and sectors, presented by practitioners from a variety of Member States and regions as well as by experts from the European Investment Bank. Other stimulating features of FI Campus included roundtables on EC Regulatory Guidance, thematic forums, and various interactive workshops.
Speaking at the FI Campus launch, Eric von Breska, Director of the Policy Directorate at the European Commission's DG REGIO said: "We can make this a success if we work together. This means bringing people together from the public sector and from the private sector. We are therefore very excited that there are so many participants in today's event." His comments were supported by Simon Barnes, Director of the European Investment Bank's Advisory Services Department who highlighted the networking and knowledge transfer opportunities available during FI Campus for: "fellow practitioners to share their experiences and tap in to each other's expertise to find out how they confronted certain issues and what sort of solutions they found."
Full details about all the FI Campus outcomes, including all the materials presented in the workshops, will be available on the fi-compass website in the near future.