Image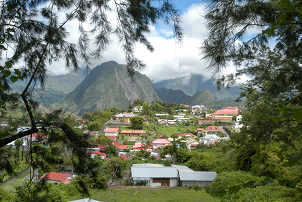 As part of our information sharing activity at fi-compass, we raise awareness about how different Member States and regions are using financial instruments under the European Structural and Investment Funds (ESIF). If you want fi-compass to feature a particular ESIF financial instrument from the 2014-2020 programming period, please see the email address at the end of this article. The following article is about a new fund of funds that uses resources from the European Regional Development Fund (ERDF) and from the European Fund for Strategic Investments (EFSI) to assist micro, small and medium-sized enterprises (MSMEs) through loans and risk capital in France's La Réunion region.
Located in the Indian Ocean, La Réunion island supports the largest population of the EU Outermost Regions. Its critical mass of potential MSME demand was a key factor in determining the viability of this 'Financière Régionale Réunion' (Réunion Region Finance) fund of funds that was launched in September 2017. Speaking at the launch of the ERDF/EFSI fund of funds, Mr. Didier Robert, the Region's President said: "It is important to support growth sectors like sustainable development, renewable energy, agri-food and digital. We must act together to promote business innovation in La Réunion."
The new fund of funds is composed of two financial instruments that will help 1 000 small and micro businesses in La Réunion to grow and innovate. There is a risk-sharing loan scheme that provides loans with attractive conditions to MSMEs (e.g. low interest rates and/or collateral requirements) and a co-investment fund providing equity. Financial intermediaries are currently being selected to implement both instruments and the first MSME investments are expected to begin during the Spring of 2018.
ESIF/EFSI combination
The Réunion Region Finance represents an EU success story for combining ERDF with EFSI at the fund of funds level and so supporting several financial instruments. This model has potential for replication elsewhere in the EU. Its design involved the Regional government securing a 'contingent' loan from the European Investment Bank (guaranteed by EFSI) for EUR 20 million. This is being combined at the fund of funds level with EUR 30 million of ERDF from the Region's operational programme to provide a fund of funds containing EUR 50 million in total.
The majority of the fund of funds budget (EUR 40 million) is allocated to the risk-sharing loan scheme which aims to provide loans to MSMEs. These loans will be co-financed by the financial intermediaries and also leverage contributions from the MSMEs. Some EUR 10 million of the fund of funds is allocated to the equity instrument that aims to co-invest in higher risk activities. Intervention rates for the equity instrument will reflect regulatory controls and thus intervene at different levels (between 40% and 90%) depending on the characteristics of the investment (e.g. higher intervention may be possible for start-up co-investments compared to co-investments in later stage MSMEs). These co-investments will be done with private investment funds. Overall, the Réunion Region Finance fund of funds is expected to achieve a portfolio value of EUR 100 million from public funding and private investors.
The design of this ERDF/EFSI fund of funds and the balance between the two financial instruments allow the La Réunion managing authority to take on more risk to help develop the island's MSMEs which have both lower and higher risk profiles.
Financial instruments in your country
If you want a financial instrument from your country to be featured by fi-compass, please send us an email to news@fi-compass.eu with a brief description of the instrument along with any hyperlinks to sources of further information. Please also tell us in your email what in your opinion are the most important points of interest about the financial instrument that ESIF managing authorities would find useful to know. We will aim to feature as many of these financial instruments as possible through our fi-compass news, publications, website, videos, and events.