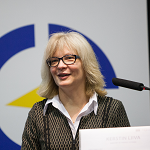 Picture: Kerstin Liiva, Ministry of Finance, Estonia
On 15 March 2016, financial instruments delivering ESI Funds were discussed at a seminar organised by fi-compass in Tallinn, Estonia. This event was part of a series of national seminars that have been taking place across the EU Member States since autumn 2015.
More than 50 delegates were attracted to the seminar, including representatives from programme authorities (managing authorities, certifying and audit authorities), other national and regional authorities and organisations, as well as financial intermediaries and consultants.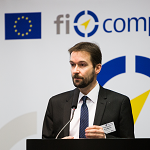 Picture: Robert Pernetta, European Commission (DG REGIO)
Kerstin Liiva, Head of the Foreign Assistance Department of the Estonian Ministry of Finance, opened the seminar. Ms Liiva highlighted the various opportunities that financial instruments can provide. Managing authorities in Estonia have utilised financial instruments as an efficient way to invest in the growth of enterprises. The opening speech was followed by a presentation on the state of play of ESIF financial instruments in Estonia by Mikk Vainik from the Ministry of Economic Affairs and Communications. Based on an ex-ante assessment performed in Estonia, Mr Vainik stressed that financial instruments must be flexible in order to be attractive to financial intermediaries and beneficiaries.
Subsequently, a series of three case studies were presented. Merle Saaliste from the Estonian Ministry of Rural Affairs shared her experience with financial instruments under the EAFRD and EMFF. Audrius Zabotka presented the Lithuanian experience with financial instruments for SMEs. Mr Zabotka described how the Baltic Innovation Fund (innovative SME) is a good example as well as the Entrepreneurship Promotion Fund (microcredit), among others. Dariusz Zwierzynski concluded this segment of the seminar with a presentation of his experience with a case study on financial instruments for waste, energy efficiency and renewable energy projects.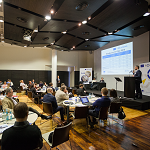 Picture: Event participants
Following the case study presentations, the European Commission's Directorate-General for Regional and Urban Policy provided an update on the latest official guidance concerning ESIF financial instruments, as well as the new off-the-shelf instruments and the complementarities between ESIF and EFSI. Local stakeholders were particularly interested in dealing with the issue of management cost and fees. Ando Siitam, from the European Investment Bank, introduced the fi-compass advisory support and showcased the features of the fi-compass website.
The seminar in Tallinn concluded with two parallel workshops, which included hands-on exercises following the life cycle of financial instruments, while placing particular emphasis on the design phase.
The participants' discussions confirmed the high interest in ESIF financial instruments in Estonia and emphasised the participants' advanced level of experience in all stages of financial instruments. The discussions also demonstrated the need for seminars focusing on more concrete issues within the life cycle of financial instruments.
All of the presentations from the seminar in Tallinn, as well as from other previous seminars, are available on the fi-compass website.