Financial Instruments delivering ESI Funds, Warsaw, 8 March 2016
Overview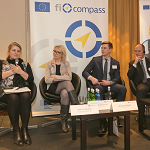 Picture: Marta Leśniak, Regional Operational Programmes Department, Ministry of Economic Development, Poland; Agata Matusiak, European Investment Bank; Gedas Janėnas, Šiaulių Bankas, Lithuania; Luigi Amati, META Group, Italy
On 8 March 2016, financial instruments delivering ESI Funds were discussed at a seminar organised by fi-compass in Warsaw, Poland. This event was part of the national seminar series that has been taking place across the EU Member States since autumn 2015.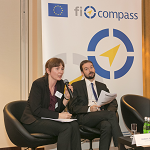 Picture: Hanna Dudka and Robert Pernetta, European Commission (DG REGIO)
More than 80 delegates were attracted to the seminar and these included representatives from managing, certifying and audit authorities as well as other national and regional authorities and organisations, financial intermediaries and consultants.
Marta Leśniak from the Ministry of Economic Development opened the seminar with a presentation about Poland's experience with financial instruments, which dates back already to 2004. For the 2007-2013 programming period, Poland allocated the impressive amount of EUR 1.1 billion on financial instruments. Their use, therefore, expanded during this period and loans, guarantees and equity funds have been implemented through numerous operational programmes. The need for sharing of knowledge and good practice in using financial instruments was highlighted. The JESSICA Initiative experience in five Polish regions during the 2007-2013 programming period was presented by Agata Matusiak from the European Investment Bank, and she stressed the positive impact of urban revitalisation projects. Gedas Janėnas from Šiaulių bankas presented the Lithuanian experience with financial instruments in energy efficiency for multi-apartment buildings and student dormitories, which achieved energy savings of up to 65% on average. The project has attracted private financing and is continuing in 2014-2020. Luigi Amati, META Group, focused on equity funding for SMEs and start-up support. By presenting examples from Italy, Slovenia and Poland, he underlined the advantages of equity for company growth and highlighted the role of incentives of fund managers.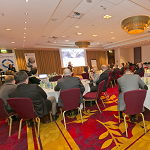 Picture: Event participants
The case study presentations were followed by the European Commission's Directorate-General for Regional and Urban Policy update on the latest official guidance concerning ESIF financial instruments and the new off-the-shelf instruments. Anna Żurek from the European Investment Bank introduced the fi-compass advisory support and showcased the features of the fi-compass website.
The seminar in Warsaw was concluded with two parallel workshops, which included hands-on exercises following the life cycle of financial instruments while placing particular emphasis on the design phase. The participants took advantage of the possibility to discuss their own practical experiences with the implementation of financial instruments.
The delegates' discussions emphasised their advanced level of experience in all stages of financial instruments. The discussions also demonstrated the need for seminars focusing on more concrete issues within the life cycle of financial instruments.
| | Title | Speakers | |
| --- | --- | --- | --- |
| | Financial instruments in Poland – State of play | Marta Leśniak, Regional Operational Programmes Department, Ministry of Economic Development, Poland | |
| | Financial instruments for urban development UDF Pomerania | Agata Matusiak, European Investment Bank | |
| | Financial instruments for energy efficiency in housing – Lithuanian experience | Gedas Janėnas, Šiaulių Bankas, Lithuania | |
| | Experience with early stage equity financial instruments within ESIF | Luigi Amati, META Group Italy | |
| | fi-compass advisory support | Anna Żurek, European Investment Bank | |
| | EC Guidance | Hanna Dudka and Robert Pernetta, European Commission (DG REGIO) | |