Financial Instruments delivering ESI Funds, Bucharest, 8 October 2015
Overview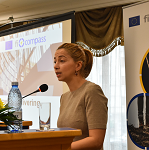 On 8 October 2015, financial instruments delivering ESI Funds were discussed at a seminar in Bucharest. This seminar was part of a series of seminars conducted in 25 EU Member States.
More than 80 people took part in this well-attended seminar. Places at the event had to be extended in order to accommodate the high level of interest from public sector bodies, banking organisations and consultancy companies.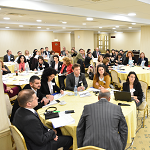 Following the opening speech by Ms Toader, General Director from the General Directorate Analysis, Programming and Evaluation at the Romanian Ministry of European Funds, practical experience on the use of financial instruments was presented. This included the JEREMIE implementation in Romania, the role of financial instruments in the Polish Human Capital Programme under the European Social Fund, and the use of financial instruments for energy efficiency in the UK and Lithuania.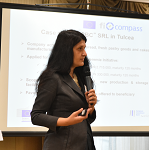 The European Commission's Directorate-General for Regional and Urban Policies presented key novelties and official guidance concerning ESIF financial instruments. This was complemented by a presentation by the European Investment Bank about how fi-compass can help Member States to advance with financial instruments.
Two parallel workshops during the Bucharest seminar focused on hands-on work following the life cycle of financial instruments - with a particular emphasis on the design phase. The participants discussed possible approaches and their own practical experience concerning a number of crucial issues in designing financial instruments, concerning the market assessment needed for the ex-ante assessment.
Overall, the seminar showed that financial instruments offer useful potential in Romania. The discussion highlighted the importance of involving a wide range of different players, as well as the flexibility offered by financial instruments.
| | Title | Speakers | |
| --- | --- | --- | --- |
| | Presentation of case studies on Financial Instruments | | |
| | Experiences of JEREMIE Romania | Ramona Ivan, Director External Relations and Structured Finance, CEC Bank, Republic of Romania | |
| | Financial instruments within Human Capital OP on the example of BGK's project | Paweł Chorąży, Director Department for European Social Fund, Ministry of Infrastructure and Development, Republic of Poland | |
| | Financial instruments for Energy Efficiency | Frank Lee, European Investment Bank | |
| | Opportunities offered by the 2014-20 framework | Oana-Andreea Dordain and Robert Pernetta, European Commission (DG REGIO) | |
| | fi-compass advisory support | Pieter Coppens, European Investment Bank | |