Financial instruments for enhancing SME competitiveness in the programming period 2014-2020, 14 March 2017, Brussels
Overview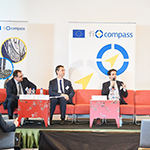 Picture: Mr Thierry Armand, Banque Populai re du Sud; Mr Stéphane Molinier, Directeur Général Délégué, Région Occitanie; Mr Aubin Bonnet, European Investment Fund
Supporting SME competitiveness to achieve Europe's growth targets is at the core of many operational programmes (OPs) across the European Union. Speakers at the fi-compass workshop in Brussels on 14 March presented two distinct cases of how European Structural and Investment Funds (ESIF) programmes can promote SME competitiveness and leverage the impact of EU funds through the use of different financial instruments: loan, guarantee and equity instruments.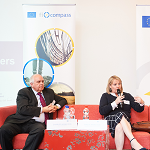 Picture: Mr Charles Hamilton, Head of EU Programmes, Invest Northern Ireland; Ms Maeve Hamilton, Director of EU Fund Management Division, Northern Ireland Civil Service
In the morning session, Pieter Coppens from the fi-compass team welcomed participants to this workshop, introducing them to the fi-compass platform for advisory services on financial instruments under ESIF, the objectives of the workshop and to the case studies to be presented and discussed during the event.
The first case study, the Foster TPE-PME fund set up in the Occitanie region in France, was presented by representatives of the managing authority, the fund of funds manager (European Investment Fund – EIF)  and one of the financial intermediaries. The region is the result of the 2016 merger of the former French regions of Languedoc-Roussillon and Midi-Pyrénées. In setting up the financial instruments, the region could draw on the positive experience with financial instruments from the 2007-2013 funding period. As a result, these instruments were scaled up in the 2014-2020 programming period.
In the afternoon, the speakers from Northern Ireland presented the Access to Finance Solutions for SMEs, which has been established for the programming period 2014-2020, based on the ex-ante assessment of regional needs of SMEs to access finance in the different stages of business development. The speakers from the managing authority and intermediate body highlighted the importance of focusing on fewer yet more strategic interventions, establishing a robust management and control system from the outset, establishing close cooperation among all stakeholders involved, but also of ensuring that financial instruments are sufficiently attractive for the private sector to participate.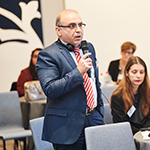 Picture: Q&A and peer-to-peer discussion at the event
Both cases highlighted the importance of financial instruments being tailored to regional needs and embedded in the region by selecting the right intermediaries with excellent links in the region. Furthermore, in both cases, the financial instruments function as a catalyst for enterprises as they provide complementary support for the different phases in the development of an enterprise. All speakers further underlined the importance of allocating sufficient time to the development, set-up and implementation of financial instruments.
Questions and statements from participants covered a wide range of issues concerning set-up and implementation of financial instruments. Beside discussions based on the two case studies, participants could also benefit from the additional networking opportunities provided.
Title
Speakers

FOSTER TPE-PME in the Occitanie region, France

Stéphane Molinier, Région Occitanie, France

Aubin Bonnet, European Investment Fund

Thierry Armand, Banque Populaire du Sud, France

Access to Finance Solutions for SMEs in Northern Ireland

Maeve Hamilton, Department of Economy, Northern Ireland

Charles Hamilton, Invest Northern Ireland