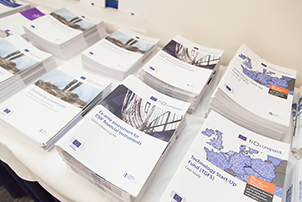 A recently completed needs assessment of fi-compass users has clarified the benefits from our practical advice about ESIF financial instruments for managing authorities, financial intermediaries, and other interested parties. A combination of 437 online survey results and 103 in-depth interviews throughout Europe confirmed strong support for the suite of fi-compass advisory services, and this provides a clear client-led steer for the direction of our future work programme.
Overall, the main fi-compass target group (ESIF implementing authorities and bodies, other national or regional authorities and financial intermediaries) underline the need for further advice about regulatory guidance and information on the benefits of financial instruments. Stakeholders from the financial sector would welcome additional help about the governance of financial instruments, the selection of final recipients, and combinations of support. Further interest was expressed in the following thematic issues: SME competitiveness within all sectors (including rural and fisheries businesses); research and innovation, ICT, and resource efficiency.
Survey respondents noted that fi-compass already makes a significant difference and where they expect it to continue doing so in the future are:
Direct contact with European Commission and European Investment Bank experts. This was seen as an important added value of fi-compass activities;
Online resources helping to clarify regulations. These were considered as very useful reference sources provided by fi-compass; and
Learning from others and exchanging experience. This relates mainly to direct discussions and personal interaction was considered important by the fi-compass target group. Also, practical experiences and case study material from peers were appreciated.