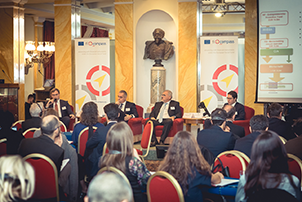 Since September we have run 14 successful fi-compass seminars in 12 different Member States and our seminar series continues in 2016 with a further 17 events in the pipeline. A full list of proposed future seminars is available on our website's event calendar and you can see information about events that are already open for registration here. They include forthcoming fi-compass sessions in Portugal, Slovenia, The Netherlands, Cyprus, Malta, UK, and Germany.
Information about all of the 2015 fi-compass seminars is available on the past event pages of the fi-compass website. Participants from our past events have already expressed positive feedback with many people reporting that they would recommend the events to their colleagues. High satisfaction levels reported by seminar delegates underline the events' ability to provide useful advice for a wide range of public and private sector partners involved in ESIF financial instruments.
Each seminar includes guidance about essential technical matters for financial instruments. Other information features case study advice from people who have been involved in design and implementation of different types of loan and microcredit facilities, guarantee funds, equity and venture capital.
Participants have found the knowledge and networking sessions to be useful. They report that these seminar sessions have given them new ideas about the way that financial instruments can be managed. Delegates are also finding the opportunity to talk to experienced practitioners and ESIF experts very valuable.